Scott Downs
Director Sales & Marketing
PF Olsen Limited


Market Summary
The domestic market remains subdued.
Rising
costs continue to cause significant issues in the construction industry. The Master Builders Association of NZ recently undertook a survey of 1,000 sector participants and 88% said that rising costs was their biggest problem. Many projects are being delayed due to uncertain budgets.
New Zealand also tends to go into a holding pattern before a general election.
Record high p
ulp inventory levels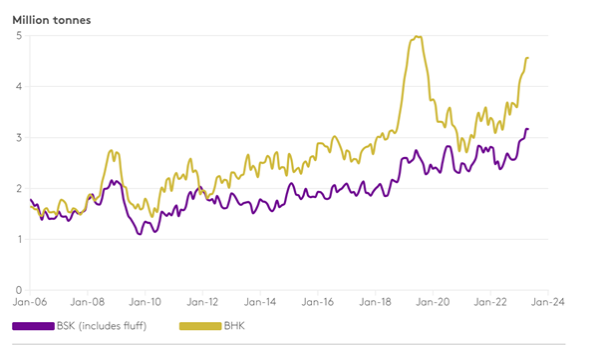 Source: PPFC, Fastmarkets
The strength of the NZD against the USD was similar at the end of July as it was at the end of June. Therefore, the currency had little impact on August AWG prices. The NZD has weakeded against the USD through August which will have a positive influence on September AWG prices. The CNY has also weakened against the USD.


NZD:USD




CNY:USD
Currency graphs source: XE
Ocean Freight
Freight costs have increased slightly and two North Island ports loading with one port disload in China costing an average of 32 USD per JASm
3
.
The Baltic Dry Index (BDI) is a composite of three sub-indices, each covering a different carrier size: Capsize (40%), Panamax (30%), and Supramax (30%). It displays an index of the daily USD hire rates across 20 ocean shipping routes. Whilst most of the NZ log trade is shipped in Handysize vessels, this segment is strongly influenced by the BDI.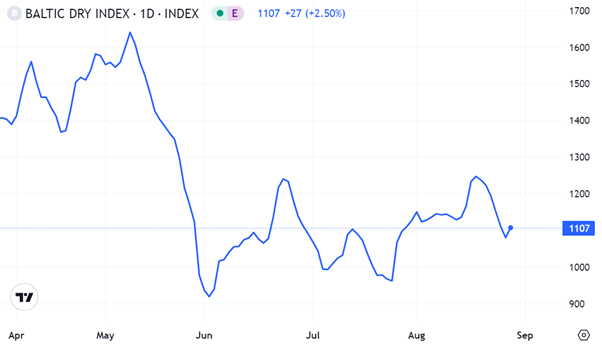 Source: TradingEconomics.com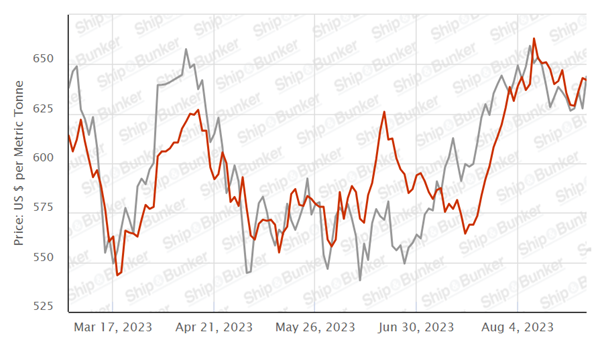 Singapore Bunker Price (VLSO) (red line) versus Brent Oil Price (grey line)
Source: Ship & Bunker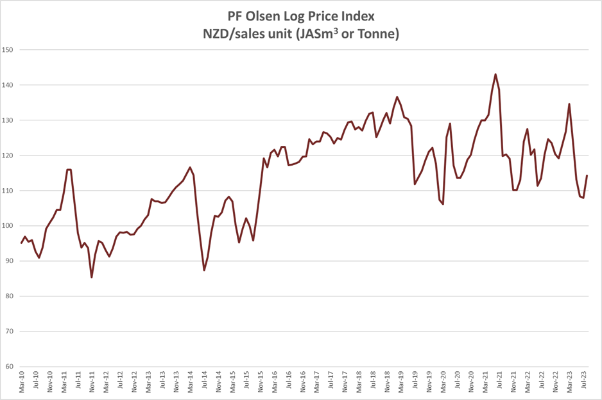 Basis of Index: This Index is based on prices in the table below weighted in proportions that represent
a broad average of log grades produced from a typical pruned forest with an
approximate mix of 40% domestic and 60% export supply.
Indicative Average Current Log Prices – August 2023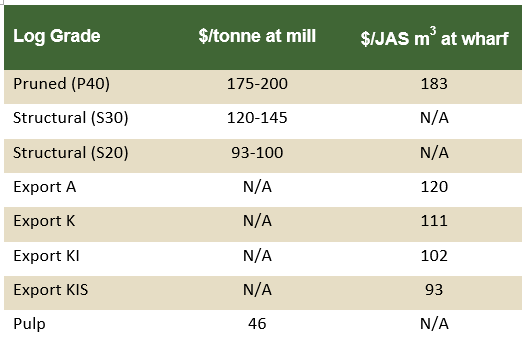 Please note these are AWG prices at North Island ports and that South Island prices are commonly lower due to higher port and shipping costs.
Note: Actual prices will vary according to regional supply/demand balances, varying cost structures and grade variation. These prices should be used as a guide only and specific advice sought for individual forests.