Scott Downs
Director Sales & Marketing
PF Olsen Limited
Market Summary
Export Log Market
China
China softwood log inventory is about 4.7-4.8m m
3
with radiata accounting for about 3.2m m
3
. Port off-take has increased to over 80k per day. This is a slightly higher daily offtake than the same time in the last two years. The problem is poor sentiment as the China market was expecting higher log demand.
The CFR price for A grade radiata logs in China is in the range 140-145 USD per JASm3. There is price pressure as wholesale log prices in China have fallen. Wholesale prices for A grade radiata logs in Lan Shan have dropped from 970 to about 920 RMB in the last month. Spruce logs that had maintained their wholesale price when the price for radiata had dropped 5% in February, have now fallen significantly in the last two weeks from over 1200 RMB to below 1100 RMB per m3.
Log buyers are also struggling to open Letters of Credit (LCs). Hopefully, this situation will improve as China has freed-up approximately 500b CNY (72b USD) by cutting its Reserve Requirement Ratio (RRR) to 7.6%. This is an attempt to stimulate the China market, so it can achieve a GDP growth target of 5% that was announced at the National People's Congress in early March. China achieved 3% growth last year. The IMF reports that China has achieved this target in the first two months of 2023, and predicts China will achieve GDP growth of 5.2 this year.
The China Caixin manufacturing PMI increased 2.4 points in February to 50.6. The index is above the significant level of 50 for the first time in seven months. (A reading above 50 indicates an expansion of the manufacturing sector). Sentiment also improved to a 23-month high as markets expect the recovery in consumer demand to be sustained.
This general positivity in China markets does not seem to be manifesting in the construction industry. China generally is battling with a drop in productivity and this may be even more pronounced in the construction industry where state-owned companies have started to replace private companies. There is often a productivity gap between state-owned enterprises and private companies.
India
Price rises for sawn timber in India have stagnated as their exports are down. This means reduced demand for timber packaging products etc. Exports from India in February 2023 fell 8.8% compared with February 2022. The manufacturing sector is weak with reduced demand due to high inflation and rising interest rates. The construction industry in India is also weak.
Exchange rates
The NZD dropped 4% against the USD through February. This allowed log exporters to increase the March AWG prices in NZD. Conversely, the CNY has recently stabilised against the USD.


NZD:USD





CNY:USD

Ocean freight
Shipping costs have increased, especially for the Supramax vessels more so than the Handymax vessels. Most Handymax shipping rates from New Zealand are in the mid 130's USD per JASm3 with Supramax shipping rates at least 10 USD higher. The versatility of the Supramax while having the larger DWT than the Handymax means they are in more demand due to the increased global shipping demand with other products.
The Baltic Dry Index (BDI) is a com

posite of three sub-indices, each covering a different carrier size: Capsize (40%), Panamax (30%), and Supramax (30%). It displays an index of the daily
USD hire rates across 20 ocean shipping routes. Whilst most of the NZ log trade is shipped in Handysize vessels, this segment is strongly influenced by the BDI.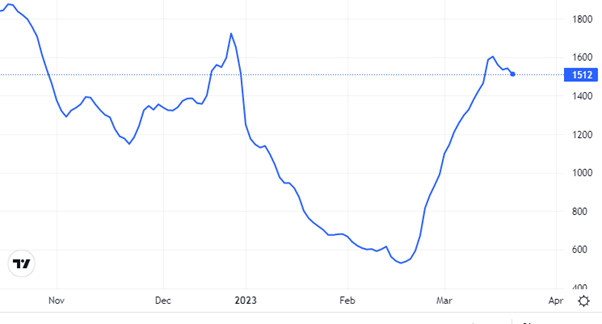 Source: TradingEconomics.com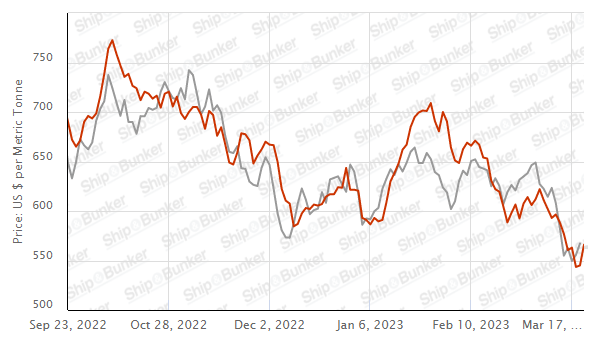 Singapore Bunker Price (VLSO) (red line) versus Brent Oil Price (grey line)
Source: Ship & Bunker


PF Olsen Log Price Index - March 2023

The March PF Olsen Log Price Index increased $8 to $135, which is the highest since July 2021. The index is now $12 above the two-year and $11 above the five-year average.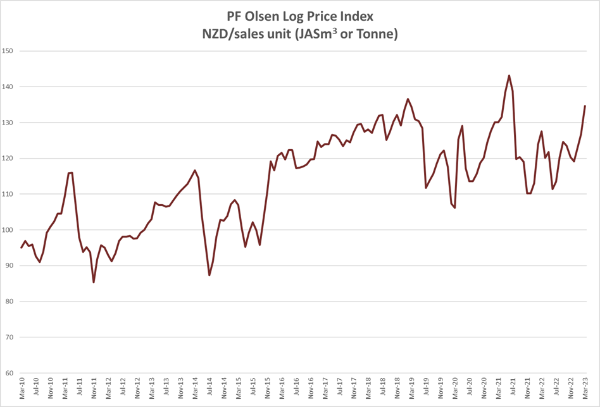 Basis of Index: This index is based on prices in the table below weighted in proportions that represent a broad average of log grades produced from a typical pruned forest with an approximate mix of 40% domestic and 60% export supply.
Indicative Average Current Log Prices - March 2023
Please note these are AWG prices at North Island ports and that South Island prices are commonly lower due to higher port and shipping costs.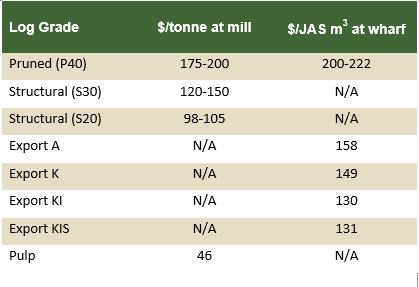 Note: Actual prices will vary according to regional supply/demand balances, varying cost structures and grade variation. These prices should be used as a guide only and specific advice sought for individual forests.​​​