China softwood log inventory has dropped over the last month from 5.6m to 5.0m. Daily port log offtake has risen from 70k to 85k. The CFR price for A grade logs currently ranges between 145 and 150 USD per JASm3 and appears to have bottomed at 145 USD.
The May Caixin China Manufacturing PMI increased to 49.1 from April's 26 month low of 46.0. This also beat market forecasts of 48.0. While an increase is good news the PMI is still below 50 which indicates contraction, but the rate of contraction has at least slowed.
Some Chinese property developers are still struggling, and in a bid to attract buyers China Central Management has advertised it will accept wheat or garlic as part of the deposit on houses in the central province of Henan. Another developer Poly Real Estate said it would gift a 100kg pig to house purchasers on one of its residential projects.
Authorities in China have increased efforts to revive home sales by lowering mortgage rates and easing rules on home purchases. Property sales in May by the top 100 developers in China has fallen 59% from May last year.
Demand for sawn timber in India remains subdued due to ongoing shortages in container availability for exports. Liners are repositioning empty containers from Dubai and Singapore for export of Indian goods.
Kandla port will receive about three log ships from South America during July. Kandla green sawn timber price is hovering at INR 621 for South American and INR 671 for Australian origins.
Kandla may get 4 ship loads from South America, during August.
Tuticorin is facing a log shortage. A part bulk shipment is expected to arrive at Tuticorin port in early July, to discharge about 16,500 m3 from Uruguay. This may be enough for three to four months, as mills are not getting adequate sawn timber orders to operate throughout the week.
The price for sawn timber has dropped to INR 681 to 701 per CFT, cut from South African and USA logs, respectively.

Exchange rates
The NZD strengthened against the USD through May which increased the drop in June AWG prices. The NZD has weakened against the USD through June which is good for July AWG prices.

NZD: USD

Ocean Freight
Shipping costs have dropped on average over 10 USD per JASm3 for log exporters to China from New Zealand over the last month. Vessel congestion in New Zealand has eased and this will also benefit AWG prices at some ports.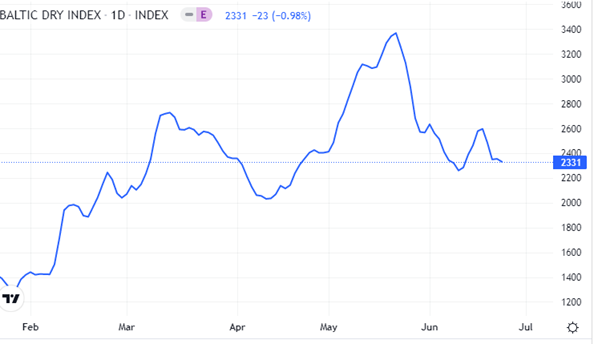 Source: TradingEconomics.com
The Baltic Dry Index (BDI) is a composite of three sub-indices, each covering a different carrier size: Capesize (40%), Panamax (30%), and Supramax (30%). It displays an index of the daily USD hire rates across 20 ocean shipping routes. Whilst most of the NZ log trade is shipped in handy size vessels, this segment is strongly influenced by the BDI.
Singapore Bunker Price (IFO380) (red line) versus Brent Oil Price (grey line)
Source: Ship & Bunker

PF Olsen Log Price Index – June 2022
The PF Olsen Log Price Index decreased $11 in June to $111 which is $11 below the two-year average, $9 below the three year-average and $13 below the five-year average.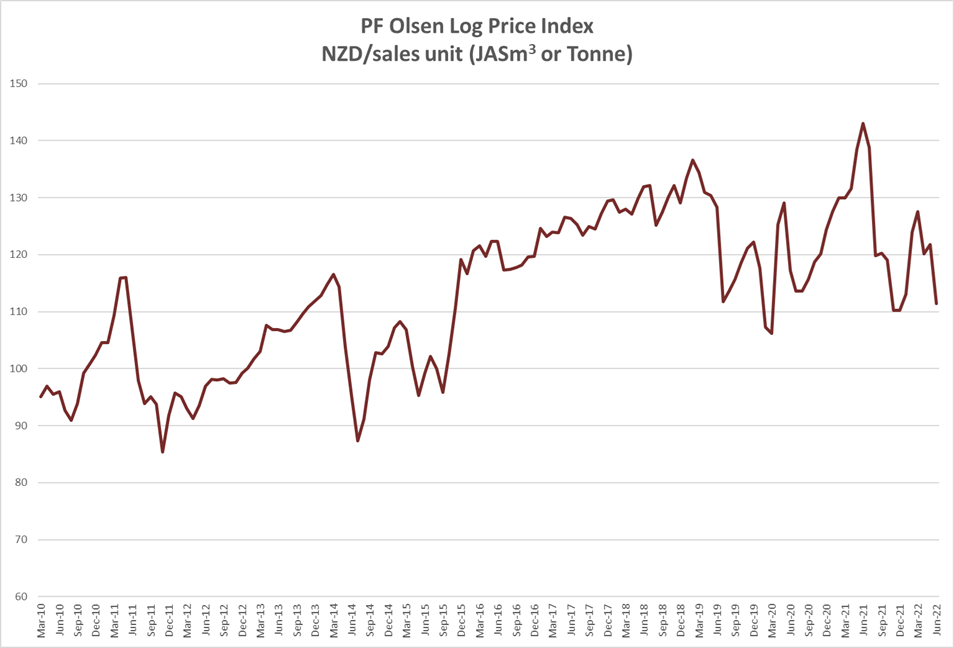 Basis of Index: This Index is based on prices in the table below weighted in proportions that represent a broad average of log grades produced from a typical pruned forest with an approximate mix of 40% domestic and 60% export supply.
Indicative Average Current Log Prices – June 2022
Please note these are AWG prices at North Island ports and that South Island prices are commonly lower due to higher port and shipping costs.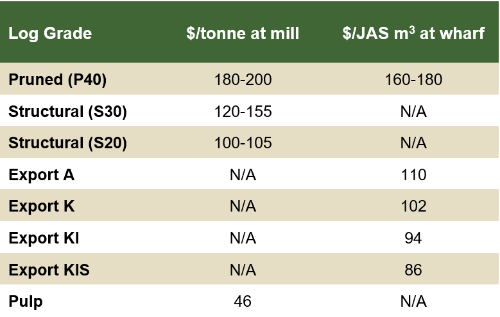 Note: Actual prices will vary according to regional supply/demand balances, varying cost structures and grade variation. These prices should be used as a guide only and specific advice sought for individual forests.