Market Summary
At Wharf Gate Prices increased an average of six dollars per JASm3 across ports in New Zealand in July. The CFR sale price in China has been stable over the last month so the increased AWG prices are due to reduced shipping costs for log exporters. Softwood log inventory levels in China continue to reduce. Log demand in China remains weak with slow recovery from the real estate fiscal crisis and Covid-19 lockdowns.
The PF Olsen Log Price Index increased $2 in July to $113 which is $9 below the two-year average, $7 below the three year-average and $10 below the five-year average.

Domestic Log Market
Some mills have reported disrupted log supply due to the severe weather events around the country. Nine severe weather events is about par with previous winters, but the weather events this year have been more wide spread and longer lasting than usual. Most of the country has experienced back-to-back months of above average rainfall due to a La Nina weather pattern. Sea-level air pressure readings are below average across the country and in the bottom half of the South Island has sat more than four hectopascals below average for the last two months.
Most mills expect demand to be a bit softer between now and the end of the year for several reasons:
- The usual winter drop in home handyman jobs and construction activity is more pronounced due to the weather.
- Interest rate increases.
- New Zealanders are starting to travel abroad again and some will do this instead of spending to build a deck or extension to the house etc.
There have been headlines about delays to construction jobs affecting the building industry but frame and truss orders are still well in advance. There has been a strong consenting period prior to this and New Zealand wouldn't have been physically able to build all these without significant delays anyhow. Most mills are taking a 'wait and see' approach to see how long this economic downturn lasts as they have a buffer with current orders.
The clearwood sawntimber sales into Europe are still reasonably strong. A reminder of these sales is linked below.
https://nz.pfolsen.com/Info++Resources/Wood+Matters/x_post/Log-Market---December-9.html
However, the companies modifying this timber thermally are facing significant increases in production costs with rising electricity and gas prices in Europe.

Export Log Market
China
China softwood log inventory has remained stable at about 5.0M. Daily port log offtake has dropped to around 60 - 65K a day. The CFR price for A grade logs still ranges between 145 and 150 USD per JASm3.

The June Caixin China Manufacturing PMI increased to 51.7. (An index above 50 signals market growth). This rate of growth is the quickest since November 2020. Companies were generally upbeat in their forecasts as they anticipated increases in both production and demand. However, they expressed concern over any potential negative impact of future Covid-19 outbreaks and the state of the global economy.

China is suffering from extreme weather this summer with severe flooding accompanied by intense heatwaves. More than 900 million people in China (65% of the population) are living under some type of heat warning. We are used to log demand reducing at this time of the year, so the quiet activity is not too unusual, especially given the extreme weather. A prolonged surge in power demand could lead to local governments preparing 'orderly consumption' plans to curb supply to inefficient or high consumption factories. This is to allow residents to continue using air conditioning units.

New Zealand log supply to China will reduce for August. Most crews are on production quotas, and this is compounded by the weather conditions. Most ports in New Zealand are quiet. Many exporters were scrambling to get enough volume to fill log vessels.

By the end of May 2022 China had imported approximately 7.8m m3 less of logs than the same five-month period in 2021. This is about a 40% drop in supply (and demand to match). The biggest reductions were from Europe (down 3.1m m3), Russia (down 1.5m m3), NZ (down 1.45m m3), South America (down 967k m3), and the USA (down 444k m3).

South American pine logs loaded in July will arrival at Kandla in August. This is approximately 200,000 m3 and CFR sale price is at 170 USD per JASm3 levels. Two log vessels with volume from Australia at CFR 178 USD per JASm3 will add to the selling pressure.

Monsoon rains and poor demand for export packing is keeping Gandhidham sawn timber prices at low levels of 601 - 621 per CFT INR for South American timber and 651 INR per CFT for Australian green timber.

Tuticorin recently received about 12,000 m3 as part cargo from Uruguay and stocks may suffice until September. Sawn timber prices are also weak at 725 to 750 INR per CFT levels. Demand for green sawn timber is being dampened by cheap kiln dried and heat treated (KD-HT) sawntimber from Europe, arriving at Chennai port.


Exchange rates
The NZD weakened against the USD through June (0.6558 to 0.6239) which improved July AWG prices. Currency will have negligible effect on August AWG pricing.



NZD: USD




CNI: USD

Ocean Freight
Shipping costs have continued to drop for log exporters from New Zealand. This is due to a combination of factors:
- Significant increases in fertiliser costs have reduced demand for shipping of fertiliser products. Approximately 25% of global fertiliser exports have previously come from Russia and Belarus.
- Higher efficiency of vessels due to reduced congestion globally increases freight miles available.
- Less demand due to the Ukraine Russia conflict.
- Weaker China market, meaning less import of commodities.
- Stronger than expected domestic coal production in China.
- Industry commentators expect container rates to decline 20-30% over the second half of 2022. This means more freight will be shipped in containers than in bulk.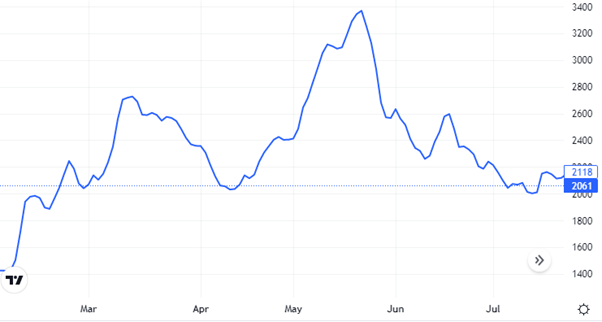 Source: TradingEconomics.com

The Baltic Dry Index (BDI) composite of three sub-indices, each covering a different carrier size: Capsize (40%), Panamax (30%), and Supramax (30%). It displays an index of the daily USD hire rates across 20 ocean shipping routes. Whilst most of the NZ log trade is shipped in handy size vessels, this segment is strongly influenced by the BDI.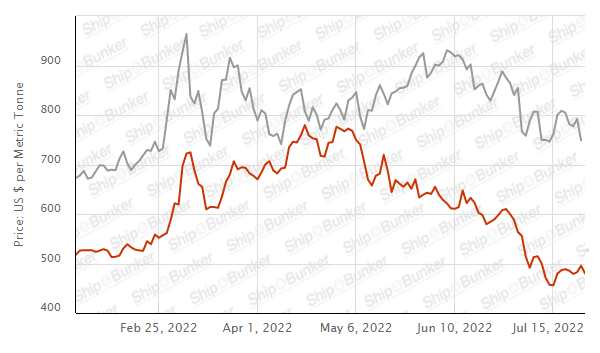 Singapore Bunker Price (IFO380) (red line) versus Brent Oil Price (grey line)
Source: Ship & Bunker
PF Olsen Log Price Index – July 2022
The PF Olsen Log Price Index increased $2 in July to $113 which is $9 below the two-year average, $7 below the three year-average and $10 below the five-year average.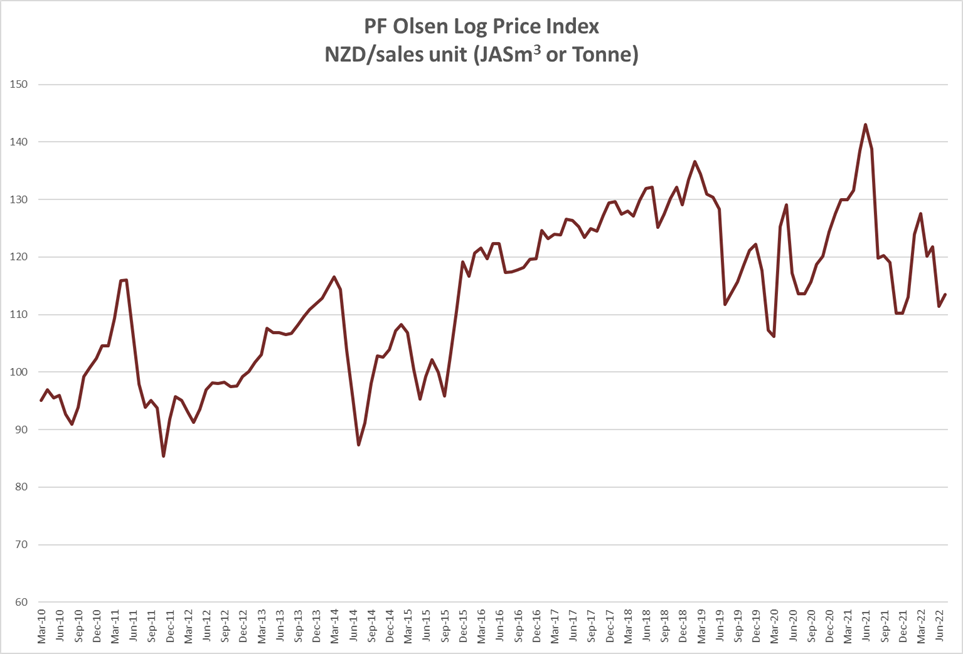 Basis of Index: This Index is based on prices in the table below weighted in proportions that represent a broad average of log grades produced from a typical pruned forest with an approximate mix of 40% domestic and 60% export supply.

Indicative Average Current Log Prices – July 2022
Please note these are AWG prices at North Island ports and that South Island prices are commonly lower due to higher port and shipping costs.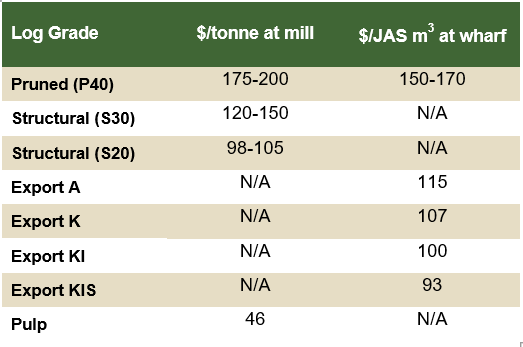 Note: Actual prices will vary according to regional supply/demand balances, varying cost structures and grade variation. These prices should be used as a guide only and specific advice sought for individual forests.