Log Market – December 2022
Scott Downs
Director Sales & Marketing
PF Olsen Limited
Market Summary
Domestic Log Market
Many mills in New Zealand are taking longer end of year breaks than they have in the last couple of years. Most

forest owners are coinciding harvest production with these dates. This means harvest volumes in New Zealand will be lower than normal.
Export Log Market
China
China softwood log inventory is stable at about 3.4 m3 and port off-take is still stubbornly sitting at about 60k per day. Most economies around the world have experienced a spike in consumption and activity after a Covid induced slowdown. While the China economy is not like most economies, I think it will also experience a similar upswing in consumption and activity.
The Chinese government has announced a loosening of monetary policy and business friendly laws, (some of which are directly targeted at the real estate industry), as they look to revive the economy after the Covid induced economic downturn. The actual stimulus packages are likely to be less than 2022, so China is relying on creating the environment for business and increasing domestic demand.
India

Demand for sawn timber in Kandla remains weak. South American sawn timber sells for 501 INR per CFT, Australian green sawn timber at 561 INR per CFT. European spruce kiln dried sawn timber sells for 601 INR per CFT.
During January 2023, three log vessels will arrive at Kandla, two from South America and one from Australia.

The market still awaits confirmation from the Indian Plant Quarantine Authority on the treatment requirements and cost charges of unfumigated logs from New Zealand.

Exchange rates

The NZD strengthened considerably during November and this affected December AWG log prices in New Zealand. The NZD is still volatile against the USD, but the underlying upward trend has stopped in the last couple of weeks. The CNY has stabilised against the USD in the last couple of weeks.



NZD:USD





CNY:USD

Ocean freight
Shipping costs have continued to drop and the average shipping rate from the North Island of New Zealand to China is now just over 30 USD.
The Baltic Dry Index (BDI) is a
composite of three sub-indices, each covering a different carrier size: Capsize (40%), Panamax (30%), and Supramax (30%). It displays an index of the daily
USD hire rates across 20 ocean shipping routes. Whilst most of the NZ log trade is shipped in Handysize vessels, this segment is strongly influenced by the BDI.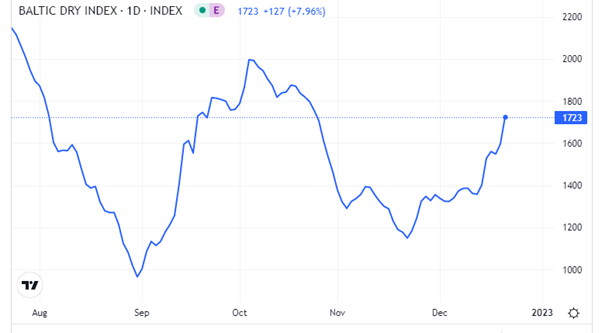 Source: TradingEconomics.com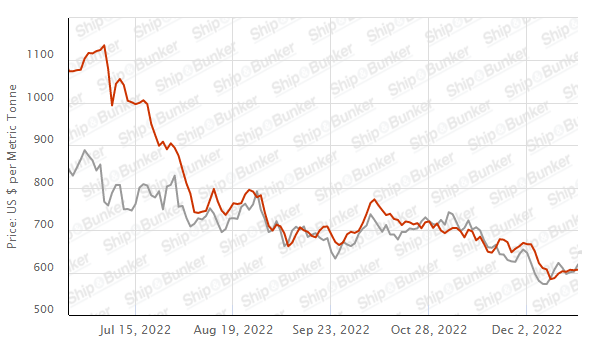 Singapore Bunker Price (VLSO) (red line) versus Brent Oil Price (grey line)
Source: Ship & Bunker


PF Olsen Log Price Index - December 2022
The PF Olsen Log Price Index decreased $1 in December to $119 which is $4 below the two-year and five-year averages.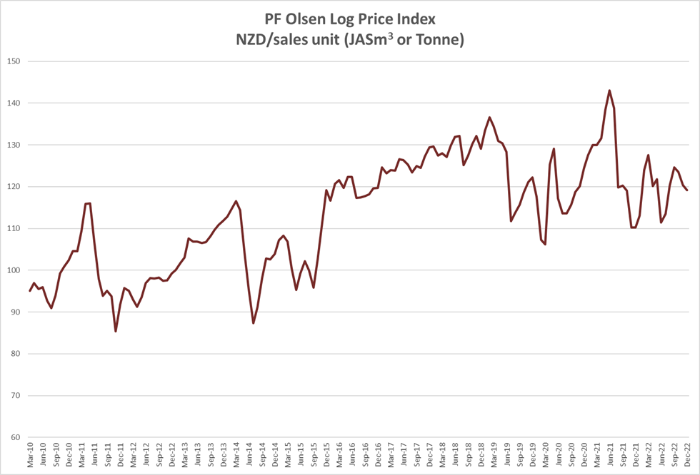 Basis of Index: This Index is based on prices in the table below weighted in proportions that represent a broad average of log grades produced from a typical pruned forest with an approximate mix of 40% domestic and 60% export supply.


Indicative Average Current Log Prices - December 2022

Please note these are AWG prices at North Island ports and that South Island prices are commonly lower due to higher port and shipping costs.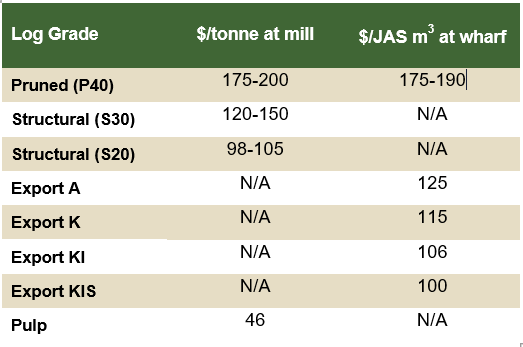 Note: Actual prices will vary according to regional supply/demand balances, varying cost structures and grade variation. These prices should be used as a guide only and specific advice sought for individual forests.