Scott Downs
Director Sales & Marketing
PF Olsen Limited
Market Summary
At Wharf Gate Prices increased between 8 to 13 NZD per JASm
3
across ports in New Zealand in August. The wide variation in AWG price increases over the last two months was due to some ports reducing congestion. The CFR sale prices in China remained stable over the last month so the increased AWG prices for the second month in a row in New Zealand are due to reduced shipping costs for log exporters. Softwood log inventory levels in China is stable. There are early signs of increased log demand in China, but caution remains due to the real estate fiscal crisis and Covid lockdowns. Domestic log demand and prices have been stable.
The PF Olsen Log Price Index increased $7 in August to $120 which is $3 below the two-year average, $1 below the three year-average and $4 below the five-year average. The August index is $3 above the one-year average, which shows that log prices have been well below average over the last year.
Domestic Log Market

Domestic log prices have been stable with little change as most domestic pricing is agreed at least quarterly. Domestic demand for sawn timber has also been consistent. Most mills in New Zealand take this time to prepare for the generally higher domestic demand in spring and summer.
Export Log Market
China
China softwood log inventory has remained stable at about 4.6 - 4.7m. Fresh pine logs are sold quickly after arrival in China, but some older stock is not moving. The current demand is in balance with supply and log buyers obviously prefer to buy the fresher stock as it arrives. Logs used in furniture manufacturing are also selling faster than logs used in the construction industry. The older stock will more likely be used in the construction industry but will be hard to move until construction activity increases.
Daily port log offtake remained stable over August at around 60 to 65k a day. In the last week of August daily port offtake has lifted to 70k a day. The CFR price for A grade logs still ranges between 145 and 150 USD per JASm3.
Log supply from New Zealand will start to increase as the weather improves. Due to improved log prices some forest owners will also release some of the production constraints they have placed on harvest crews. However, supply will not ramp up as quickly as it could, as there is less infrastructure in the New Zealand log supply chain due to the lack of sustained work.
The July Caixin China Manufacturing PMI declined to 50.4 from the positive outlook of 51.7 in June. While Covid outbreaks are still a concern, the main cause for the reduction in positive sentiment was the concern around energy supply in China. Producers in many regions have experienced electrical stoppages as officials have prioritised domestic consumption over industrial use. The power demand from air conditioning units has soared during the heatwave in China.
India
Relatively cheap kiln dried sawn timber from Europe is flooding Mundra port in the range of 180 to 200 EUR. This is dampening the already poor demand for the green sawn timber.
A couple of unsold pine log vessels from South America are adding negativity to the already depressed log market. Three ships loaded from South America during August will arrive in Kandla in September. Gandhidham green sawn timber price is INR 571 per CFT for South American sawn timber and INR 621 for Australian sawn timber.
Kandla demand may increase after the Diwali holiday in November.
Demand in Tuticorin market is slow, with pricing at INR 650 levels per CFT. European kiln dried sawn timber is sold at around 220 EUR levels.
Exchange rates
As predicted last month, the exchange rate had little effect on the August AWG pricing. Currency will add a slight gain to September AWG pricing. The CNY has weakened against the USD, and this will reduce the buying power for Chinese log buyers.

NZD:USD
CNY:USD
Ocean freight
Shipping costs have continued to drop for log exporters from New Zealand. This is a continuation of the factors described last month: ​​​​​​
- Significant increases in fertiliser costs have reduced demand for shipping of fertiliser products. Approximately 25% of global fertiliser exports have previously come from Russia and Belarus
- Higher efficiency of vessels due to reduced congestion globally increases freight miles available.
- Less demand due to the Ukraine-Russia conflict.
- Weaker China market, meaning less import of commodities.
- Stronger than expected domestic coal production in China.
- Industry commentators expect container rates to decline 20-30% over the second half of 2022. This means more freight will be shipped in containers than in bulk.
The Baltic Dry index (BDI) is a composite of three sub-indices, each covering a different carrier size: Capsize (40%), Panamax (30%), and Supramax (30%). It displays an index of the daily
USD hire rates across 20 ocean shipping routes. Whilst most of the NZ log trade is shipped in Handysize vessels, this segment is strongly influenced by the BDI. The BDI has fallen for a fourth successive session to a two year low.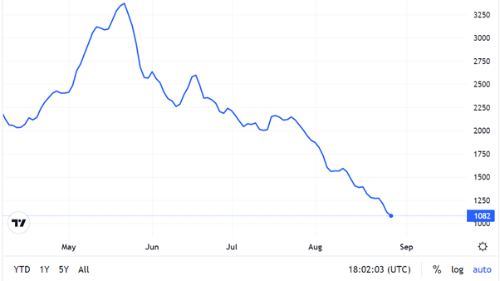 Source: TradingEconomics.com
For over ten years now we have shown the IFO 380 bunker price vs Brent Crude. This graph is now outdated as this refers to the 3.5% Sulphur IFO (Intermediate Fuel Oil) price whereas about 95% of Handysize vessels are restricted to burning 0.5% Sulphur VLSFO (Very Low Sulphur Fuel Oil). Only vessels which contain a sulphur scrubbing device can consume IFO and this is usually only found on SupraMax vessels or a few of the newer Handysize (later than 2019). Therefore, the graph below shows the trend of the VLSO bunker price: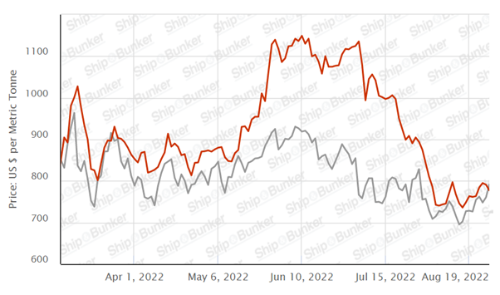 Singapore Bunker Price (IFO380) (red line) versus Brent Oil Price (grey line)
Source: Ship & Bunker


PF Olsen Log Price Index - August 2022

The PF Olsen Log Price Index increased $7 in August to $120 which is $3 below the two-year average, $1 below the three year-average and $4 below the five-year average. The August index is $3 above the one-year average, which shows that log prices have been well below average over the last year.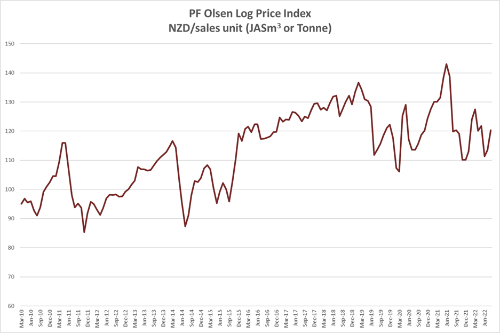 Indicative Average Current Log Prices - August 2022
Please note these are AWG prices at North Island ports and that South Island prices are commonly lower due to higher port and shipping costs.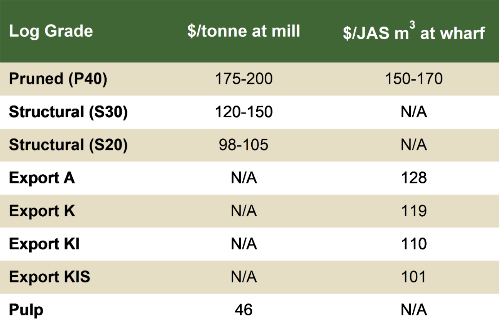 Note: Actual prices will vary according to regional supply/demand balances, varying cost structures and grade variation. These prices should be used as a guide only and specific advice sought for individual forests.