Log Market – September 2022
Scott Downs
Director Sales & Marketing
PF Olsen Limited
Market Summary
At Wharf Gate Prices for export logs increased 7-8 NZD per JASm3 across ports in New Zealand in September. The increase in AWG prices was again due to reduced shipping costs. Shipping costs have now stabilised. There is pressure on CFR log sale prices in China due to the strengthening USD, reducing the purchasing power for Chinese buyer. Domestic logs prices in New Zealand are unchanged.

The PF Olsen Log Price Index increased $5 in September to $125 which is $1 above the two-year average, $3 above the three year-average and $1 above the five-year average. The September index is $7 above the one-year average, which shows that log prices have been well below average over the last year.
Domestic Log Market
Domestic log prices have been stable with little change as most domestic pricing is agreed at least quarterly. Domestic demand for sawn timber continues to be consistent. There is an oversupply of pruned logs in the central North Island, but all other regions seem to be in balance.
Export Log Market
China
China softwood log inventory has reduced by about 1m m3 over the last month to be below the 4m m3 mark (3.8-3.9m), with radiata accounting for about 3.2m m3 of this volume. Daily port offtake has increased to about 70k-75k m3. The reduction of inventory is due to significantly reduced supply. The Chinese Golden Week Holiday to commemorate the founding of the People's Republic of China in 1949 starts Oct 1st and ends Oct 7th. There will be less people travelling than usual again this year due to Covid-19, so this means the reduction in log demand caused by this disruption to work is likely to be less than previous years.
There is a wide range of CFR sale prices for radiata logs in China. A grade currently sells between 136 and low 140's USD per JASm
3
for A grade. The difference in sale price between the better grades and lengths versus the lesser desired grades and lengths has also widened. The weakening of the CNY against the USD means log sales will most likely trend towards the lower end of this range. Uncertainty around future currency movement is also a legitimate concern for Chinese log buyers.
The August Caixin China Manufacturing PMI decreased to 49.5 from 50.4 in July. Output grew at the softest pace in three months, as delivery times lengthened for the second month in a row due to power cuts and disruption from Coronavirus
.
Both new orders and buying levels fell for the first time since May. Employment fell for the fifth month running, with 20% of youth in urban China now unemployed.
The
value of residential construction in China made up 63% of the total construction value in China in 2021. This share is forecasted to be about 50% for 2022. Residential construction will continue to be restricted due to ongoing deleveraging reforms on property investors, with no growth predicted in residential property construction in 2023. Market analysts predict an increase of commercial property construction and infrastructure projects for 2023. This assumes fewer and shorter Covid lockdowns
.
Local government special bonds are becoming an important funding source for construction in China. This funding source has risen from funding 25% of construction in 2021 to 39% in 2022. The Ministry of Finance has announced a target of special bond issues of 3.65 trillion CNY. Approximately 95% of this spend is targeted for infrastructure projects.

If Covid lockdowns ease and temperatures reduce in China, productivity will increase. While log demand won't return to its previous heights, global log supply is also limited. The actual balance between log supply and demand is still unknown due to Covid and other external influences. Now the strengthening USD will add further uncertainty to this market.
India
Kandla port will receive five ship loads of logs from South America plus one boat from Australia during October. Price range is low 130s USD to low 140s USD for A grade. Demand for sawn timber is still weak. The sawn timber price at Gandhidham for South American green sawn timber is 551 INR per CFT and Australian sawn timber is 621 INR per CFT.
The price for sawn timber in Tuticorin has risen to around 721 INR per CFT. Tuticorin might receive one ship load from Uruguay in November. Demand may pick up from January 2023, as Tuticorin will experience North East monsoon rains from October to mid-December.
MPI New Zealand planned to issue Phytosanitary certificates for India bound pine logs, under deck bulk ships. However, when Indian Plant Quarantine Authority clarified that four times relaxation fee (penalty) of INR 800 per metric tonne will be imposed on such cargoes plus on-arrival methyl-bromide fumigation shipped until 31 Dec 2022, MPI NZ postponed its decision to 1 January 2023. Shipments from 1 January 2023 will not attract four times relaxation fee, but only on arrival methyl-bromide fumigation of logs, stowed under deck of bulk vessels. This facility may continue till 6 May 2023 or such time extended by authority, from time to time.
Exchange rates
The NZD dropped a cent against the USD during August, and this had a small positive influence on the September AWG price. In the latter part of September especially the NZD has weakened considerably against the USD. This will filter through to effect AWG prices depending upon how exporters have hedged their USD. However, the CNY has also weakened against the USD, and this reduces the purchasing power of the Chinese log buyers. Some AWG log buyers may factor in lower CFR sale prices, which will offset the improved returns from a weaker NZD.

NZD:USD



CNY:USD


Ocean freight
The reduction in shipping costs has slowed down. While there are still some cheaper deals the market has stabilised. The average shipping cost to China from North Island ports is mid 40's per JASm
3
for a two-port load.
The Baltic Dry Index (BDI) is a composite of three sub-indices, each covering a different carrier size: Capsize (40%), Panamax (30%), and Supramax (30%). It displays an index of the daily USD hire rates across 20 ocean shipping routes. Whilst most of the NZ log trade is shipped in Handysize vessels, this segment is strongly influenced by the BDI. The BDI has risen slightly in September from a two year low.

The bunker price has continued to fall.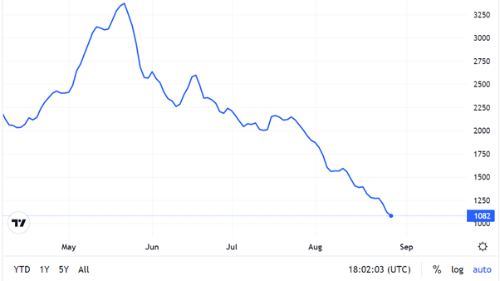 Source: TradingEconomics.com


Singapore Bunker Price (IFO380) (red line) versus Brent Oil Price (grey line)
Source: Ship & Bunker
PF Olsen Log Price Index - September 2022
The PF Olsen Log Price Index increased $5 in September to $125 which is $1 above the two-year average, $3 above the three year-average and $1 above the five-year average. The September index is $7 above the one-year average, which shows that log prices have been well below average over the last year.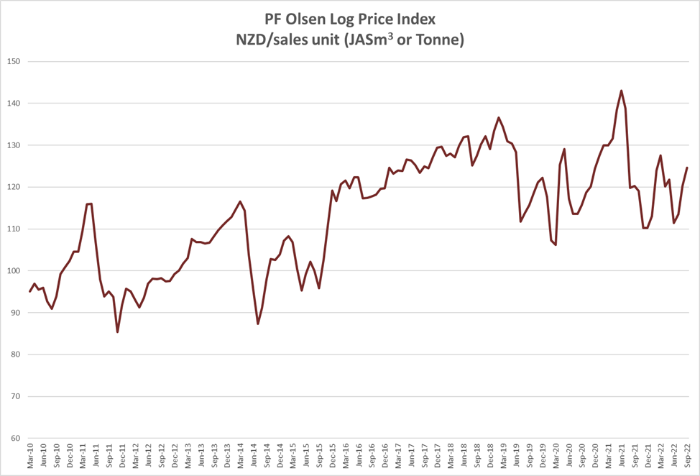 Basis of Index: This Index is based on prices in the table below weighted in proportions that represent a broad average of log grades produced from a typical pruned forest with an approximate mix of 40% domestic and 60% export supply.

Indicative Average Current Log Prices - September 2022
Please note these are AWG prices at North Island ports and that South Island prices are commonly lower due to higher port and shipping costs.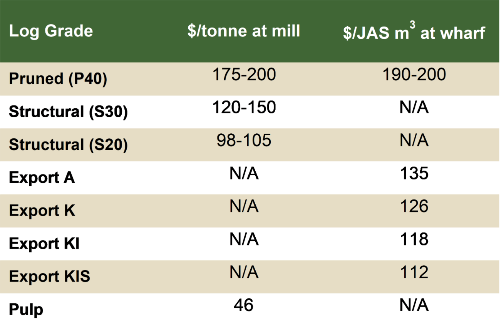 Note: Actual prices will vary according to regional supply/demand balances, varying cost structures and grade variation. These prices should be used as a guide only and specific advice sought for individual forests.